The Club
---
You'll find that once you are a Wolverine, you are always a Wolverine. We are a family that works hard to better our skills, and we know how to have fun.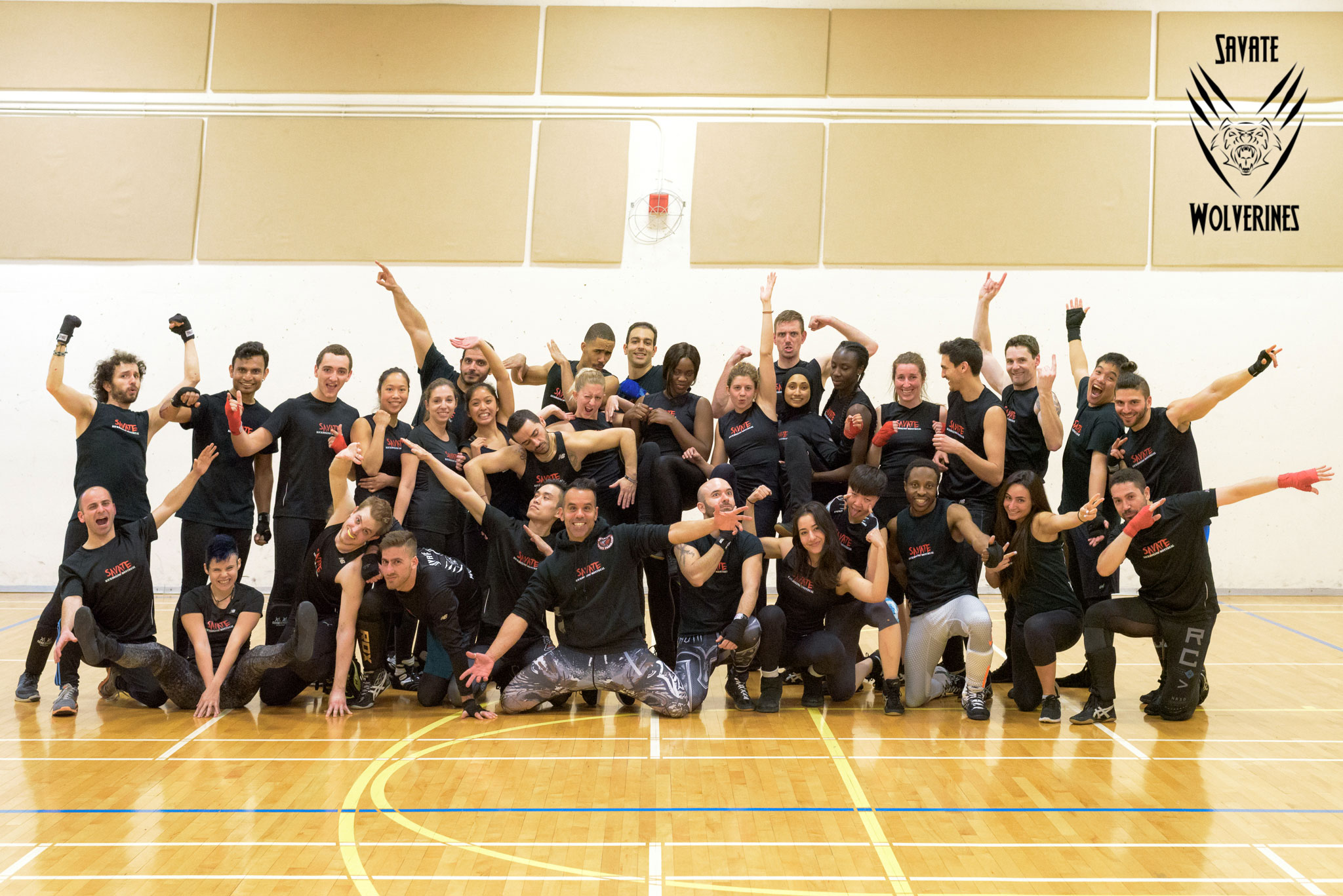 Established in 2001, the Montreal Savate kickboxing club, Wolverines, is one of the oldest schools in Eastern Canada. The longevity of this club comes at no surprise to anyone who is a wolverine, new to old. There is an unspoken bond, a comradery, among a group of individuals who are united not just by the core values that come with being a savateur but with the shared experience of the sweat, blood, and tears. They are guided by a leadership that embraces the virtues of martial arts to coach, motivate, and inspire their students confidence, fitness, and most importantly their well being. Step up, learn for yourself the bonds you will create for a lifetime and find your limits then pass them, here at Savate with the Wolverines.
We are SavateWolverines
We stay fit and Healthy
Savate is about staying fit and healthy on every level, spiritually mentally & physically. The extensive workout we do in our training sessions pushes our physical body limit to another level. Developing to the right mindset to acquire skills such as focus, timing, strength, precision, target acquisition, foot work, technique, speed, power, efficiency, and tactics is essential. There are moments of rest when the instructor motivates our mental mindset, this helps bring ones best forward and discover new dimensions within ourselves and the sport.
---
We Pursue Excellence
We pursue far more than excellence. We pursue perfection. We train for every situation, in the ring and outside the ring. We aim to create people that are calm inside and controlled outside of the ring, yet fighters inside the ring.
We Practice Our Minds
Fear of disappointment is a drive for some, fear of losing is a drive for others. In Savate, passion for the sport, keeps you going. This sport is about developing a multidimensional mind that handles any situation.
---
We encourage teamwork
BY EXCELLING WITHIN OURSELVES WE CHALLENGE OTHERS TO DO THE SAME.
When we bring our best self forward in Savate, it feels good. You feel fresh, confident, and driven. You feel inspired because you are doing something for yourself and your body. This feeling is contagious. When you feel this energy, the people around you start to feel it too. When you push yourself to up your game, it motivates them to do the same.
Raphael F. Estevao
Boxe Francaise Savate: Niveau Gant Jaune
Savate Defense: Gant Rouge
Savate Baton Defense: Gant Rouge
Biography
Since the age of 10, Raf has practiced various martial arts, they included:Judo, Karate (Black Belt) (Style: Kyokushinkai, & Shotokan), Capoeira (Batizado as "Braza" and of course Savate.
In brief, Raf being competitive by nature participated in competitions with a good amount of success winning a number of tournaments and championships.
Accomplishments
2000 – Canadian National Team
2000 – Competitor for the First "Coupe Du Monde Assaut" in Paris, France
July 14 2001 – Obtained the diploma of "Moniteur de Boxe Francaise Savate" in Toulouse, France. (FFSBF&DA) Federation Francaise de Boxe Francaise Savate & DA
"Good or bad, I've had teachers that have helped me excel in these sports. In essence man is the sum total of his experiences, in writing that, I have to give credit where it's due. Most & foremost a special thanks to my parents whose support is unquestionable, and without them I would have never been introduced to these great sports."Raphael F. Estevao
"Life, a constant battle, we all have our struggles. I'm thankful to be able to practice Savate. Savate has taught me the importance of endurance, in order to persevere in and out the ring. Martial arts has long been my refuge, a place where I find inner peace!Fan Leung
Fan Leung
Boxe Francaise Savate: Niveau Gant Jaune
Biography
Fan has been a student of various martial arts from a young age. In secondary school, he began boxing, Muay Thai, and wrestling. It was during college that he discovered his passion for Savate kickboxing, which he has continued to practice for over 10 years under the tutelage of Raphael F. Estevao. During this time, Fan has participated in numerous national and international Savate competitions, including representing Canada in the Savate World Championships.
Accomplishments
2011-15 Canadian Savate champion (60-65 kg)
Member of Savate Federation
Canadian Savate fight team 2011, 2012 and 2015
Certified Canadian Savate level 1 instructor
Olivier E. Bourrier
(Retired)
Boxe Francaise Savate: Niveau Gant Jaune
Savate Defense: Gant Rouge
Savate Baton Defense: Gant Rouge
Biography
Since the age of 8, Olivier has practiced various martial arts, they included: Karate (Style: Shotokan), European Kickboxing, American Kickboxing, Aikido, Kali,
and of course Savate.
Accomplishments
2000 – Canadian National Team
2000 – Competitor for the First "Coupe Du Monde Assaut" in Paris, France
July 14 2001 – Obtained the diploma of "Moniteur de Boxe Francaise Savate" in Toulouse, France. (FFSBF&DA) Federation Francaise de Boxe Francaise Savate & DA
"Life can be really full of surprises, nobody around me (can also include myself) would have thought that I would get this far in the martial art field. To me, that proves that there are no unreachable goals as long as you got the juice. Motivation can really move mountains. Follow your dreams, keep on doing what you love, do it with passion. Of course it's not without ups and downs that you can achieve great things. That's why I would like to thank my parents, first and foremost; I can feel their unconditional love even as far as 6000 km from here. I would also like to thank my buddies from the national team, tough periods made us more than a team, a family. Very special thanks to Raphael; he was the first guy I called "brother" in this country that was new to me. We went through so much together, quite an adventure! And this is far from being the end. Finally I would like to thank all my students for their motivation and their enthusiasm: this is our best reward, keep up the good job!!"Olivier E. Bourrier