We are Savate
Try Savate Kickboxing for fitness, competition, or just for fun. We have entry level classes that are safe and enjoyable. We will teach you the skills you need to progress into the world of Boxe Francaise.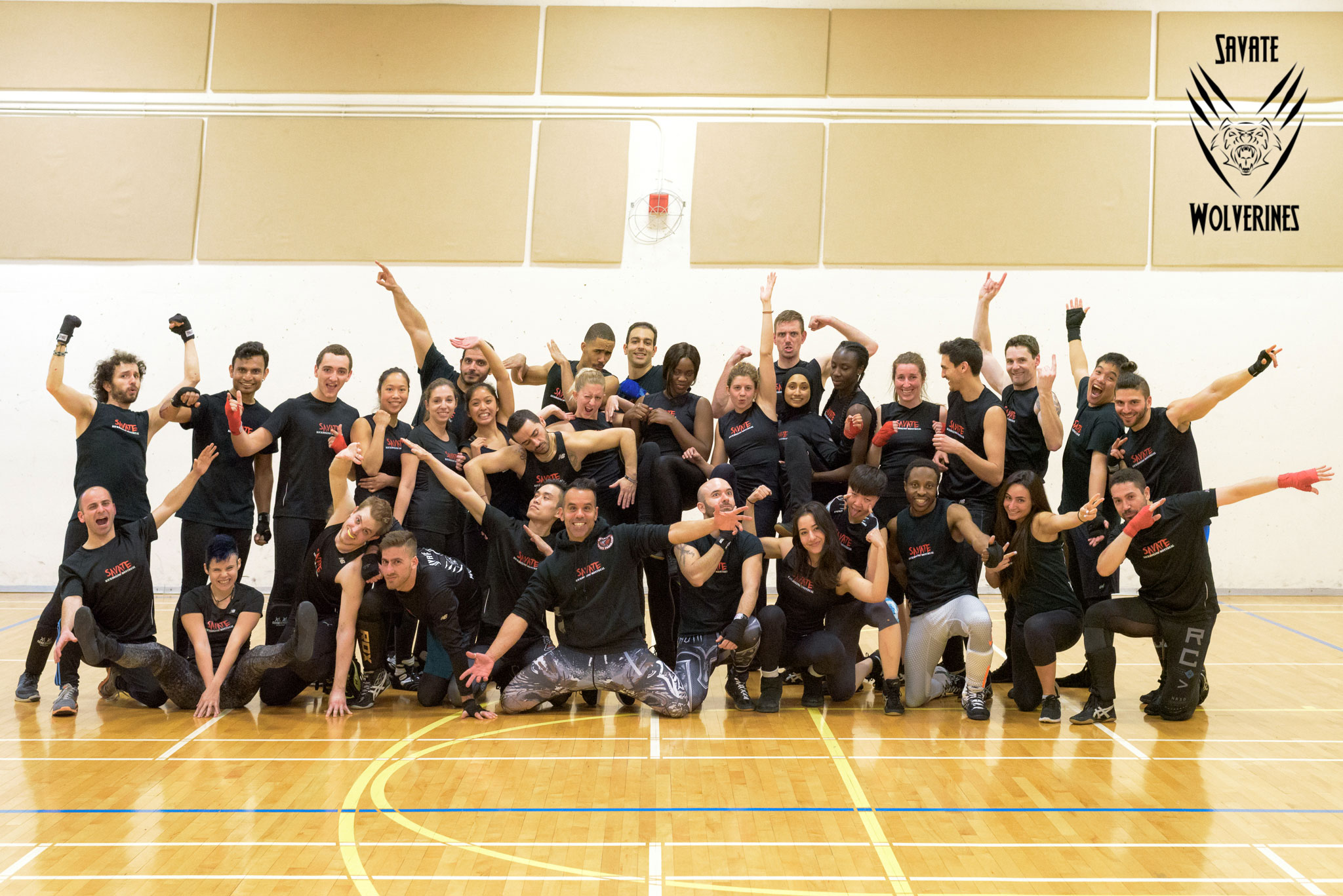 Beginners Class
Come learn the basics and see what Savate has to offer. Savate K.B 1 is a program designed to teach the individual, basic fundamental principles. The skills taught will enhance physical fitness as well as promote and instill a sense of well-being.
Concordia
---
Mon & Wed: 9:05 PM - 10:30 PM
Tues & Thurs: 9:05 PM - 10:30 PM
Int - Adv Class
your skill in combinations, tactics, and advance maneuvers. SAVATE K.B II is a program designed to meet the needs of students with already a background within the sport. This level requires a certain level of physical fitness and skill.
Concordia
---
Mon & Wed: 7:35 PM - 9 PM
Fri: 8:35 PM - 10 PM
Elite Class
The Savateurs who participate in this class are selected. This means that they have achieved a certain glove ranking, skill and have strong athletic abilities. This is above and beyond regular training, you need heart, spirit, and commitment to follow through to this level. In essence it's a team of athletes that prepares itself for competition.
TBA
Where you find your limit and surpass it
- This is Savate.
Raphael F. Estevao
Qualifications
Boxe Francaise Savate: Niveau Gant Jaune
Savate Defense: Gant Rouge
Savate Baton Defense: Gant Rouge
Accomplishments
July 14 2001 - Obtained the diploma of "Moniteur de Boxe Francaise Savate" in Toulouse, France. (FFSBF&DA) Federation Francaise de Boxe Francaise Savate & DA
2000 - Competitor for the First "Coupe Du Monde Assaut" in Paris, France
2000 - Canadian National Team
Luis Rodrigo Anabalon
Savate History
Savate-Tireur 13+ years
2022 - Current: Kickboxing Instructor Ton Dojo, Momentum Studio-Martial Arts Academy
2017 - 2018: Kickboxing Instructor - Mansfield Brossard GYM
2014 - 2016: Kickboxing Instructor - McGill University
2013 - 2018 National/Regional: 1st Place Defending Champion
2012 Savate Assault Worlds at Paris - Category 60kg: Ranked 5th
2011 National/Regionals: 1st place
2011 Quebec Regionals: 1st Place
2010 Quebec Regionals: 3rd Place